Shipping & Returns

Shipped via FedEx International Priority
Goods shipped will be Delivery Duty Unpaid - Import duties and taxes will have to be paid to customs by the customer to the authorities first before the item is released.

Device Returns are subjected to our Device Return Policy. For more information, please click here.
Returns, Exchanges and Refunds

Refunds for any reason will be subjected to our Device Return Policy. For more information, please click here.
From large week-long conventions to small single-day pop-up events, it is almost always a necessity to rely on digital technologies (such as order kiosks, POS systems, CCTV cameras, media streaming) for the best guest experience. With LTE/5G wireless connectivity, guests and vendors alike get to enjoy a reliable and seamless high-speed Wi-Fi connection anytime, anywhere.


Popular use cases for wireless include:

• Guest and vendor Wi-Fi connectivity
• Supporting cloud applications, machines and IoT
• Uninterrupted communications and media streaming for the crowd
• Serve as a primary or backup line to wired networks


The Events Bundle is an all-in-one package especially targeted at Day-1 connectivity, with equipment that provide a reliable and secure internet connection for events and outdoor venues. It is the perfect solution for concerts, festivals, and trade shows, where high-speed internet access is critical for various operations to ensure a successful event.
The Cradlepoint E300 is a high-performance router that supports multiple cellular networks, including 4G, LTE and 5G, thus providing a robust and reliable connection. The router is designed to handle high volumes of traffic and is equipped with advanced security features to protect against cyber threats. With its built-in Wi-Fi capabilities, it is also easy to connect multiple devices to the network.
The Poynting Puck-2 is optimized for outdoor use and is designed to provide a strong and stable signal even in challenging conditions. Its high gain capabilities allows it to receive and transmit signals over long distances. The antenna is also highly directional, ensuring that the signal is focused and powerful, even in crowded environments. The external casing is also robust, vandal resistant and waterproof (IP 69K), ideal for a set-and-forget scenario.

Click here to learn more about wireless for event connectivity.
Share
View full details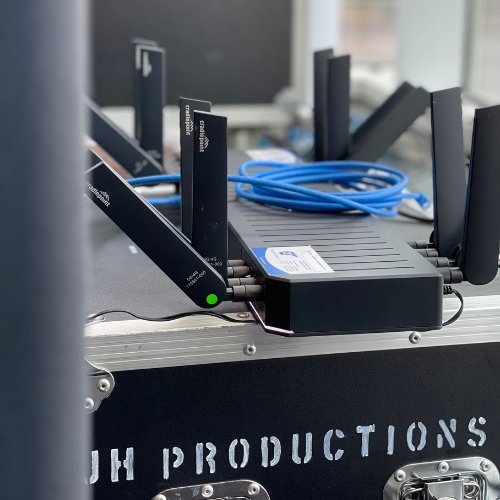 Outdoor Events Kit
Everything you need to get connected
Discounts will be applied at checkout.